New $5 Device Easily Unlocks Car Doors For Thieves In Winnipeg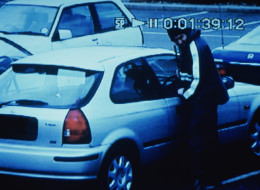 A new tool is allowing criminals across the world to break into cars without leaving a trace, and now that device has made its way to Winnipeg.
The new device can be purchased online for about $5 and sends an electromagnetic pulse through a car's key area to unlock the vehicle.
Winnipegger Rick Henzel had no idea the technology existed, until his car was broken into early Sunday morning.
"We did find the glove box open, insurance papers stolen," said Henzel.
At first, he thought his wife had left the doors unlocked, but a neighbour told him he had phoned the police early that morning when he heard noise outside.
Luckily, the whole thing was caught on tape. Henzel had installed security cameras on his property about a year ago when his car was broken into previously.
"They come running up into the screen. It's a free for all," he said. "They're in that car as well and away they go. Just like that."
Thieves can be seen applying a device to a car and then opening the door as if it is unlocked.
"It makes you feel a bit vulnerable to be honest with you because you feel like a victim," said Henzel.
Michael Legary is a security expert with Seccuris. He said thieves are using the $5 devices to hack into vehicles' computer systems.
"So just like we have to worry about our computers being hacked, our cars can be hacked as well," said Legary. "That's something we didn't have to worry about a decade ago."
The device sends an electromagnetic pulse into the vehicle, tricking it into unlocking the door, much like a keyless entry key fob.
He said according to the device's manufacturer, at least 19 of the devices have been shipped to Winnipeg in the past three months.
Legary said while you can't prevent thieves from getting into your vehicle, you can keep them from getting your belongings, and he recommends not leaving anything, even your insurance papers, in your car unattended.
The device can be thwarted if the car's keyless entry system is disabled, but you'll have to visit a mechanic to have that done.
Henzel has reported the theft to police but said police officers appeared baffled by the device.
–Like the Police, Snopes.com is unaware of Thieves Hacking Car Doors Using Keyless Entry Spoofers.
THANKS TO:
A related story:   The rise of car hacking: In-car technology has led to thieves remotely taking over our vehicles http://www.independent.co.uk/life-style/motoring/features/the-rise-of-car-hacking-incar-technology-has-led-to-thieves-remotely-taking-over-our-vehicles-8825012.html
A  Related VIDEO:   Thieves Hacking Car Doors Using Keyless Entry Spoofers — http://youtu.be/bN883GJaIes
Shop Here For After Market Auto Alarms:  Auto Alarms